One thing we've noticed among our wine drinking friends (read: all our friends) is a habit of saving the corks from wine bottles. We go to their places and see vases upon vases just filled with corks. While it seems to have become the collectible du jour for the ladies, how about we actually do something with all those corks? Here's a roundup of some of the crafty things you can make with corks.

Let's start with something easy. All you need to do for this craft is use a sharp knife to slit the cork so you can insert the place card. Then sand or cut the bottom down so it can sit on a flat surface. Alternatively, you can use this method to create cork bag clips if you are more inclined to sit at home alone with a bag of salt and vinegar chips than to host a dinner party.

Literally all you do for this one is cut the cork in half and use a hot glue gun to attach a magnet to the back. Then you have awesome refrigerator magnets to hold up those annoying save-the-dates your engaged friends send to remind you that they are getting married, and that you will probably die alone. Of course, this inspires you to open another bottle of wine, leading to more corks and more crafts, and the cycle of life goes on.

This may be the easiest craft here, because you don't even have to cut the cork. All this involves is a quick trip to the hardware store to pick up loop screws and key chain rings. Then all you do is screw in the loop screw, attach the ring with your key, and voilà! You'll always know what keys are yours since they proudly display your drinking habit.

The holidays are coming, and we're all poor. Instead of scrounging around to find some cheap gifts, how about you make one with what you already have around the house? If you google "wine cork ornaments," a million sites with instructions come up, but this site has some of the best we've seen.

Clearly, sorority girls love monograms. We also love wine. Why not combine the two together? This craft is super easy – all you need are the wooden letters you want for a monogram, enough wine corks, and a hot glue gun. Alternatively, how cute would this be in your chapter letters for a big or little gift?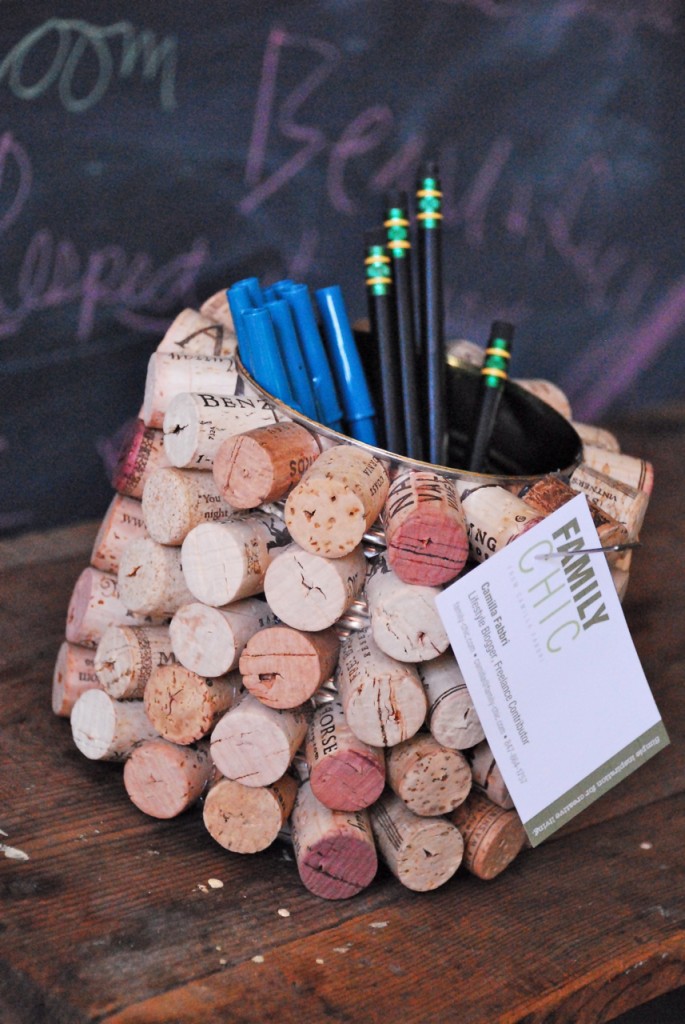 Here's another craft you can make on the cheap with stuff you have around the house: corks, a tin can, and the ever-useful glue gun. While this one is billed as a pencil cup, you can use it for just about anything, including hairbrushes, knives, and corkscrews. Plus, you can pin stuff to the sides, which is awesome.

We love this instructional because the author is hilarious, but she definitely did this the hard way. Picking a square or rectangular frame, using one that you don't have to paint, and reusing the glass to attach the corks make this project a lot easier. One of us made a similar board a few weeks ago to hang our jewelry on, and it's completely adorable.

One of us saw this a few years ago and still swears we're going to create it for our kitchen to go along with everything else wine-themed. If you have wine-stained corks, it's all the better–create the heart so it fades from white to red wine or vice versa. If you don't have enough of one shade, it's a great excuse to have to go buy some more wine..