The time for politics is officially upon is. 'Tis the season for hidden agendas, blackmail, and kissing babies. Can't you smell it in the crisp fall air? Luckily for us, we live in a time enriched with social media, and press tours, so we get to see it all unfold right in front of us.
The most recent stop on the Tour de Pres was The Tonight Show Starring Jimmy Fallon. Last week, Donald Trump was there to poke fun at himself, and Jimmy nailed his Trump impression. This week, Hillary Clinton stopped by dressed in head to toe pink ready to dominate. Instead of taking a few playful pokes at herself like Donald, she went straight for the punch.
In this "phone call" with "Donald Trump" she took no time letting us know how she really feels. She hit up all the hot topics like his various marriages, calling out his stance on women's issues, immigration, and of course that mess of hair. Hill calls it "one strand that he swirls over his head like a soft serve at Dairy Queen" after sipping a glass of wine very conspicuously. Icy. Even Hillary is hip to the "sips tea" trend. You go, grandma.
Then the sneaky Mizz Clinton proceeds to keep the jokes rolling, adding that Donald would rename The White House the "Trump House." To finish off her one woman roast of Donald Trump, she has Jimmy tug on her hair, making sure that hers isn't fake. Can you handle all that heat, Donald?
We see you, Hillary. Shade on..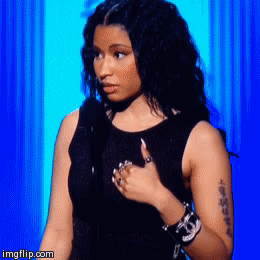 [via YouTube]
Image via YouTube