Meet Hailee Steinfeld, the 18-year-old actress who's ready to add "slash singer" to her title. Some of you may know her already.
She played awkward Barden Bellas newbie in "Pitch Perfect 2."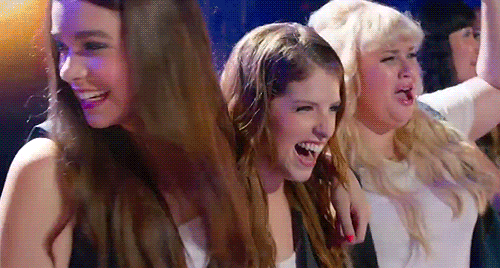 She is also a proud member of Taylor Swift's ever-growing best friend girl gang. She even had her two second cameo as "The Trinity" in the Bad Blood music video.
To kick off her singing career, she released her debut single, "Love Myself." As much as I expected it to be a flop, it's immensely catchy. Even the music video is great, and she looks Kendall Jenner chic. It sounds like a "Break Free" 2.0. Listen to it, love it, repeat it, buy it on iTunes.
Not even going to pretend I didn't scream/sing it in the shower, driving around, working out picking up fast food at the drive thru. Yeah! She's right! I do love myself, and I don't need anybody else! Such an empowering tune.
After a few days of having it on repeat, I actually started to listen to the words.
When I get chills at night
I feel it deep inside without you, yeah
Know how to satisfy
Keeping that tempo right without you, yeah

Pictures in my mind on replay
I'm gonna touch the pain away
I know how to scream my own name
Scream my name
Wait what? Is this song about her late night alone time? I thought I might've just been looking too far into it. So I kept reading.
I'll take it nice and slow
Feeling good on my own without you, yeah
Got me speaking in tongues
The beautiful, it comes without you, yeah

I'm gonna put my body first
And love me so hard 'til it hurts
I know how to scream out the words
Scream the words
Okay, maybe it's not a stretch.
This is a pretty bold move for an 18-year-old's first song. Miley hasn't even done a song on this topic, and Britney didn't release her lady jam, "Touch Of My Hand," until she was 22. It's even more iconic that Hailee hid the taboo topic under the "self love/girl empowerment" blanket so sneakily. I see you.
Either way, it's a jam, and I don't intend on taking it off repeat for a while. What do you think?.
Loading ...
[via YouTube]
Image via YouTube