Ah, Drake and Rihanna. Two people who prove that if you reach a certain level of fame, no one will know or care what your last name is. I generally hate mainstream music, but these are two incredibly talented people. Drake is the lovesick boy who got away and turned the residual pain of your breakup into four studio albums, each better than the last. Not to mention, his recent physical transformation will forever amaze/arouse me.
And Rihanna? She's the bad bitch who is notorious for smoking blunts, effortlessly winning the fashion game, and killing the music industry because she's just so goddamn cool. Together, they would be the world's most notorious power couple. So what's the fucking hold up?
These two obviously have the hots for eachother. Drake spent upwards of four minutes publicly professing his love for Riri at the VMAs this year, while she stood to the side and blushed, pretending she didn't know all the shit he was saying about her was true. Everybody said she attempted to swerve his kiss after the speech, which seemed kind of true, until we saw this delightful little video:
After the VMAs the two apparently partied at their favorite club, and were seen leaving together. They then spent the night together, or at least in the same hotel. The next day, Rihanna stepped out in what looks like Drake's VMA shirt as a dress. Which is basically the celebrity version of you wearing your boyfriend's grimy hoodie.
Yesterday, E News reported that the two are "definitely a couple." As a rule of thumb, I'm always wary of articles that quote a "close source" as their citation. Anyone who spends as much time on the internet as I do knows that a "close source" could very well mean absolutely nothing. I mean, what celebrity's close friend would anonymously out their pal for the cheap thrill of watching a thousand news outlets blow up with the info? Regardless, E seems confident that the two are full-on dating, and I could not be more hopeful that this source is the real deal:
"They are fully dating. No one really knows how long they have been 'official' — they just decided to let it become a thing instead of hiding it from everyone. They're happy."
If they are dating, they're definitely not hiding it from everyone. Drake straight up stated, "She's someone I've been in love with since I was 22 years old." Still, Rihanna is pretty notorious for being her own girlfriend: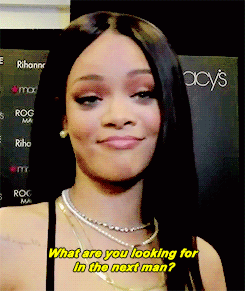 And now, TMZ has gifted us with a video that shows the two getting cozy at a nightclub, which proves that the two have been inseparable since the VMAs on Sunday.
Does this mean they're official? Why else would they be grinding up on each other, in plain view of hundreds of partygoers and invasive paparazzi? I'm dying for a clear answer, I don't understand why celebrities still don't have a Facebook relationship status-type outlet to inform us all what who they're doing. Enough of these vague Instagrams and so-called close sources; I want answers. A clear-cut response to the hype in the form of a press release would be bomb, but at this point I'd be willing to accept a tweet or even a Snapchat caption. In the meantime, I suggest we all start coming up with a celebrity couple name. I think these two could be a stronger match than Kimye and Bey-Z, and that's really saying something. .
Image via Instagram